Who's Snowlit?

Snowlit is a Twitch Partner and variety games broadcaster who focuses strongly on interaction with her viewers. She emphasizes fostering a positive environment for people to hang out & be comfortable in, and streams are often chill, with good vibes and oftentimes interesting discussions. If she's made at least one person's day better, even by a little bit, then she considers her stream that day a success. Her stream is considered at least PG-16, as Snowlit does swear on stream occasionally, and there are sometimes "mature" topics of discussion.
---

Basic Info

Stats Sheet
Aliases: Circe / Snow / Snowy
Age: Old enough
Ethnicity: Chinese American
Location: Colorado
Birthday: September 3
Hobbies: Snowboarding and traveling when possible, sleeping, reading fantasy novels, hanging out with her partner Dyz, working out at the gym, streaming, cuddling with her cats Fayde & Knight, and of course video games!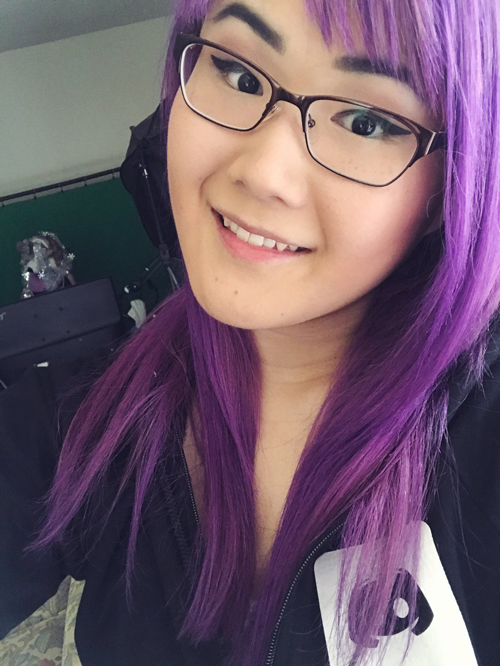 Snowlit streams a variety of games, but most often, she focuses on action/adventure roleplaying games (RPGs), as well as games that are particularly story-driven. Due to how heavily she focuses on interacting with her community while streaming, she tends to go rather slow in gameplay, which also lets her enjoy the game in her own style. When she's not streaming, she enjoys spending time with her partner Dyz, as well as her precious cats Fayde and Knight.
---

Frequently Asked Questions

Frequently Asked Questions
When did you start streaming?

Consistently since December 5th, 2014. Partnered by Twitch on February 18th, 2015.

Are you single?

Nope! I have a partner, and you'll hear me call him Dyz. We've been in a relationship since 2011 and have been living together since 2013.

What games do you normally stream?

I stream a variety of games, but the categories I focus on are action/adventure RPGs & story-driven games. This has varied from new releases to older games, to indie games!

What are your favorite video games?

(In no particular order) Final Fantasy VII, Final Fantasy VIII, Final Fantasy X/X-2, Heroes of the Storm, Dark Souls 1 & 3, Ori and the Blind Forest, Fallout 4, The Witcher 3: Wild Hunt, Bloodborne, Horizon Zero Dawn, Kingdom Hearts 2, The Last of Us, God of War 4, The Legend of Zelda: Breath of the Wild, Red Dead Redemption 2, Assassin's Creed Odyssey, Sekiro: Shadows Die Twice, Hollow Knight, Death Stranding, Final Fantasy VII Remake, Ghost of Tsushima, Demon's Souls (PS5), Yakuza 0, Spider-Man: Miles Morales, Immortals Fenyx Rising, and Kena: Bridge of Spirits.

How did you come up with the name 'Snowlit'?

When I was making my Twitch name, the name I usually use ("snowpeach") was taken, so I wanted to keep "snow" and tried thinking of what I wanted to add on the end. I like the way light (moonlight, lamplight, sunlight) reflects off of freshly fallen snow, but I didn't want to be called "snowlight." So I went with "snowlit" instead, on the idea that something is lit by the light reflecting off of snow.

Do you still play Warframe?

Unfortunately, no. I've quit indefinitely due to excessive burnout. I'm sorry!

When did you start wearing glasses?

Due to drastically different eyesight in each eye, I've worn contact lenses on 1 eye since high school, then swapped to wearing contacts on both eyes in 2016. I've always worn contact lenses during streams and only decided to finally get a pair of eyeglasses in September 2017. Now, I tend to wear glasses half the time on stream & during longer broadcasts.

What pets do you have?

I have two cats! Fayde is a female Russian Blue mix, born in September 2015, and adopted by Dyz & myself in May 2017. Fayde was named after a character from the game Heroes of Newerth. Our second cat, Knight, is a male brown/white tabby, born in June 2020, and adopted in April 2021. Knight was named after The Knight from the game Hollow Knight.

What are your tattoos?

first is a glyph-style watercolor tattoo dedicated to my Twitch community and the Snow Army, located on my right inner forearm and inked in 2018. My second is a black & gray tattoo of Rinoa Heartilly's wings from Final Fantasy VIII, located on my left outer forearm and inked in 2018. My third is a watercolor tattoo of a cat silhouette with Fayde's name in barcode, located on my left inner forearm and inked in 2019. My fourth is a watercolor tattoo of a dragon and flowers, located on my right upper arm and inked in 2019. My fifth is a black & gray tattoo of an ambrosia flower and fern leaf, located on my right outer forearm and inked in 2021. My sixth is a black and gray couples tattoo that I got with my partner Dyz in 2021, to celebrate our 10-year anniversary, and is located both our upper right arms. It depicts a moon, representing me, on my inner arm and a sun, representing Dyz, on the opposite outside part of my arm, with galaxy stippling detail connecting the two like a band. My seventh is a black and gray tattoo of an East Asian woman, surrounded by morning glory flowers (September birth flower) and peonies, located on my upper left arm and inked in 2021.

My
---

Specs

* Snowlit will earn revenue from qualifying purchases made upon clicking any of the below shortened URLs (which redirect to Amazon, Logitech G, or Blue Microphones).
---
---
---

Partnerships & Sponsors

---